F.R.I.E.N.D.S – the cult classic, a favorite among generations, an eternal Best Show Ever. Its six main characters can never be anything but Ross and Rachel, Joey and Chandler, Monica and Phoebe. Raking in a million dollars per episode by the end, the six Friends settled themselves in the hearts and minds of their viewers and decided never to leave, evident by those who will swear that they watch the show every single day!
No sitcom is complete without famous celebrities appearing as guest characters, and F.R.I.E.N.D.S does not disappoint. It has a lot of A-list guest celebs, right from George Clooney playing a hot young nurse to Brad Pitt as an old school buddy. And we love them all! They give an added charm to the show and keep us glued further to the screen.
Difficult as it is, we've narrowed down the top 12 celebrity appearances on F.R.I.E.N.D.S, which will make you go back and watch all their episodes over again!
#1 Tom Selleck
Dr. Richard Burke, friend of Monica's father and a sexy doctor, struck a chord in all our hearts. Boys want to be like him, and girls want a man like him (or better yet, him!), what with his manly moustache and very charming smile. Along with Monica's, our hearts broke too, at the season 2 finale.
#2 Christina Applegate
Playing Rachel's sister Amy, Christina Applegate took to the character in a way that made us hate her from the moment she spoke, from calling baby Emma, Emily to mistaking Ross for a falafel vendor. But you have to admit, she's got sass! Her appearances on the show made two of the most memorable episodes ever.
#3 Brad Pitt
Brad Pitt played Will, a geek-turned-hottie who hates the guts of Rachel Green. The co-founder of the "I Hate Rachel" club made us swoon with his intense stares, goofy smile and boyish face. Phoebe saying, "Just take off your shirt and tell us!" is secretly all of us!
#4 Bruce Willis
Bruce Willis as Paul is a mixture of smoking good looks and a whole lot of pathetic awws. The one who intimidated Ross, dated Rachel and cried about being called Chicken Boy managed to give us some pretty good laughs. Paul's the Man!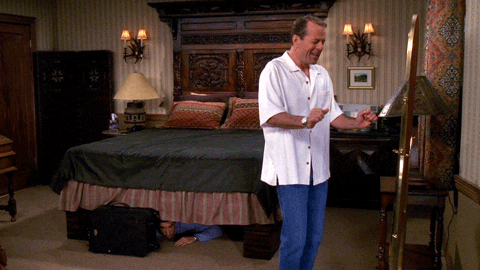 #5 Julia Roberts
Who can forget Susie Underpants! Julia Roberts played a make-up artist and former classmate of Chandler, who dates him only to take revenge for showing her underpants to everyone by seducing him into wearing nothing but her panties in a public restroom. Vengeance is best served naked!
#6 Sean Penn
Playing Phoebe's twin sister, Ursula's clueless fiancé Eric, Sean Penn is adorable to watch as he hits it off with Phoebe, breaks up with Ursula and tries to make it work with the other sister while trying to forget the person he is constantly reminded of, watching her twin's face. The young Penn charms us all every time we watch him!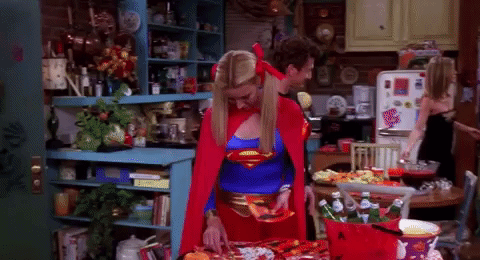 #7 Dermot Mulroney
Rachel's suave, cocky co-worker Gavin Mitchell in season 9 is portrayed by Dermot Mulroney, who gives us all of the feels of My Best Friend's Wedding. Despite his arrogant behavior, he makes a place in our hearts just by smiling his adorably lop-sided smile and being his good self. Bonus points for when he offers to look after baby Emma!
#8 Susan Sarandon
Susan Sarandon as Jessica Lockhart on Days of our Lives played a soap actress to the T. She's lovable as a fading superstar coming to terms with being kicked off the show, and is even more endearing when she gives Joey acting tips!
#9 Danny DeVito
Short little Danny DeVito as Roy the old stripper is totally aww-worthy when he showed up for Phoebe's bachelorette party. He dances, cries, gets comforted by the ladies and completes his routine and manages to be the perfect cute little old man.
#10 Winona Ryder
Winona Ryder played Melissa, Rachel's old sorority sister. After bumping into her at Central Perk, Rachel is reminded of their kiss back in college, and it is revealed that Melissa secretly loves Rachel. Pretty little Winona gave us a hilarious episode that gave away Rachel's wild side!
#11 Gary Oldman
Who knew Gary Oldman, or as we better know him, Sirius Black, played actor Richard Crosby in The One With Monica and Chandler's Wedding! Joey's co-star in his war movie spat his way through part 1, and stayed drunk during part 2, causing Joey to be late to the wedding. A memorable role indeed!
#12 Reese Witherspoon
Reese Witherspoon played Jill Green, the sweet and spoiled little one who sets her eyes on Ross and makes life super awkward for older sister Rachel. The cute and petite actress plays a little princess to perfection!
Time to switch on the laptop and sing along – I'll be there for you!