The age old secret to strong, thick and shiny hair strands is not a super expensive fancy salon treatment or a shampoo- In reality, healthy hair is all about your healthy diet. Healthy, lustrous and happy hair obviously needs more nutrients rather than the cosmetic products. Eating healthy food in the first place will give you the mane that you've always desired and dreamed of!
Food For Healthy Hair:
Fill up your plate with following essentials for maintaining healthy hair:
Dairy Products: They help in hair growth. Add cottage cheese, yogurt, etc dairy products in your diet. Dairy products supply important proteins such as casein and whey. As we all know, the main constituent of hair is protein, this macronutrient is equally important for both the growth and strength of hair strands.
Image Source
Fish/ Spinach: Include fish in your diet, if you are suffering from severe hair loss. Eat the oily varieties of fish like think salmon which contain omega 3 fatty acid. It helps to reduce hair loss. In addition, fish offers iron and vitamin B12 nutrients, which are essential for healthy hair. If you are a vegetarian, then you can include spinach in your diet. As iron deficiency is the second main cause of hair loss, the easiest way to treat hair loss is including iron rich food like spinach. In the same fashion just like fish, the green leafy vegetable supply rich nutrients, minerals and vitamins and helps to keep hair follicles healthy.
Image Source
Wholegrains: Include whole grains in your daily diet as it helps to boost thickness. Whole grains can be consumed in a variety of forms right from bread to cereals. They contain plentiful of zinc, B vitamins and iron. For healthy hair, Zinc is needed to regulate the hormones that have a huge and direct impact on the thickness and growth of healthy hair.
Image Source
Walnuts: Full of selenium, walnuts helps to fight back dandruff. Selenium is a crucial mineral that improves the health of the scalp. Also, the oil from walnuts are equally important and contributes to the hair elastin in addition to hair growth. Eating walnuts help to combat the dryness of scalp.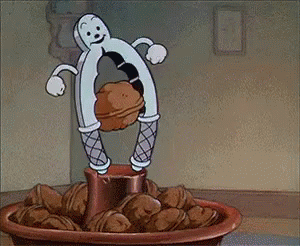 Image Source
Carrots: For boosting shine in your strands, eat carrots. They are not only good for eyes, but also for healthy hair. Carrots supply heaps of Vitamin A which helps to maintain oils in the hair. Vitamin A contributes to producing scalp-sustaining oils. Thus, naturally well-conditioned scalp boosts shine in the hair.
Image Source
Poultry: Eggs are best to treat frizzy and brittle strands. Chicken and turkey not only offer loads of protein but also iron, which helps to maintain hair follicles.
Image Source
Bananas: To treat lifeless hair, eat Banana like a Minion! It supplies a good amount of vitamin B6 deficiency of which is associated with hair loss. Additionally, Vitamin B from banana helps the body to absorb the essential nutrients from food which in turn nurture your hair follicles, furthermore boosting shine and growth of hair.
Image Source
In long run, eating healthy food will make your hair grow healthy and shiny. Although, eating healthy food is true but it takes about 6 months to 1 year to treat severely damaged hair with healthy food diet. Therefore, prepare yourself to be patient and cure your hair naturally! Do follow your healthy diet for surprisingly good results.
With this in mind, eat healthy, stay healthy and look stunning with healthy strands.
Featured Image