Whenever I think about my female friendships, the first thing which pops up in my mind is the amount of love they shower on me. Then comes the close knit relationship we share! And of course the mad times spent together!
Every phase of my life has been made special by female friends and I will cherish all the times we have spent together till eternity. But beyond the mad times, there are a lot of things my female friendships have taught me –
Women don't pull other women down
The common misconception which seems to be ingrained is that women are jealous of each other. Women cannot see other women going up the ladder. But for me, this was never the case with my female friendships. My female friends made sure that I grew with them and even ahead of them and they lended me all the support in the world! I have friends who have taught me new skills, have shared their secret food recipes and groomed me at work too!
A tight hug from your female friend does wonders
Breakups, job hassles, depression woes, in laws tussles, boyfriend issues, heartaches, fights with parents, physical pain, mental instability….You just name it and there is nothing in this world which cannot be healed by a HUG from your female friend! I remember the time when I was talking to one of my female friends about a difficult phase in life and she just got up and hugged me tight, real tight mid conversation! In a moment I felt, I can get out of this shit. Such is the power of a HUG!
Female Friends are great Bodyguards
They will come out to protect you at any time of the day and many a times fight for you even in your absence. I work in the writing world and many a times my female friends don't let the unwanted criticism about my writing reach me! They cannot listen to anyone gossiping about me or calling out names. And if someone messes up with me, then I have an army of female friends at my doorstep to win the war!
It is difficult to maintain Female Friendships
Men are better at maintaining friendships than women. Women somehow tend to let go off their friends in prioritizing their social and family life. It is hard for us to maintain our friendships, but times are evolving and we are trying our level best. I don't have any close school friend in my life currently, but I have very close female friends from my post graduation and work space today. I did a mistake in not keeping those school friendships but I am mending the mistake slowly.
That Platonic Love is all that matters to be sane!
You can share it with your partner, but there are certain things which you can share only with your female friends. Those relationship talks, talking your heart out and endless therapy sessions. The emotional connect I share with my female friends is unparalleled and it feels good every single time after talking it all out. I know my friends won't judge me or pass a predicament about me, they will just listen to whatever I have to say. Of course, they will yell and snap and tell me if I am wrong but at the same time they will try to solve my problems. I am just happy that I have someone to talk to, who listens to me!
Female Friendships are Underrated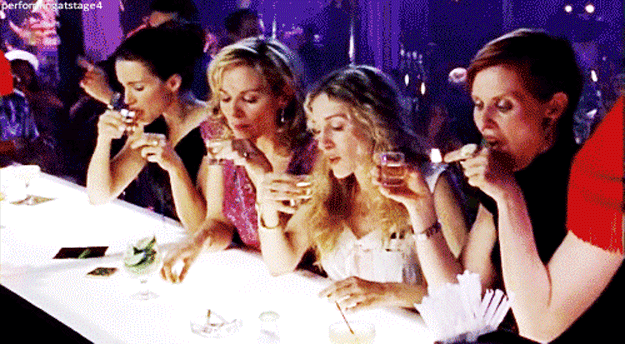 Yes, female friendships are underrated. No one tells us to keep our female friends with us as we grow old. What we are told is to look after family first. We change cities, workplaces and phone numbers and somehow tend to miss out on this best relationship. Society thinks women don't need friends and this relationship seeps below in our live charts. But don't do this mistake and keep your female friends close always. I learn't it the hard way.
Don't let people tell you otherwise and always treasure your female friends. This is one relationship which your partner won't understand. But remember, this is important to sustain in life. Let your life be full of stories about your female friends which you can pass on to the next generation 🙂
Tell us about your female friend and the bond you share with each other in the comments below!