You would've definitely thought about getting married by the time you enter your twenties. Even if you haven't, all those aunties waiting to dance, gossip and eat all the paneer dishes at your wedding would've definitely thought about it. While you are busy figuring out how to eat without gaining weight, how to make sure your boyfriend doesn't get to see that hot friend of yours or dreaming about making a career, there it comes – your first rishta!! Before you know it, everybody starts talking about it, your friends would be deciding what to wear and of course, your mother will be saving up on some tissues. And then there's you- going through a myriad of emotions.
Stage 1- Signs of mild cardiac arrest at the first rishta As soon as you get your rishta, you experience serious medical conditions that turn into mental torture. You suddenly feel old and begin to wonder if you have actually started LOOKING that old. All hell breaks loose.
Stage 2- Parental Ignorance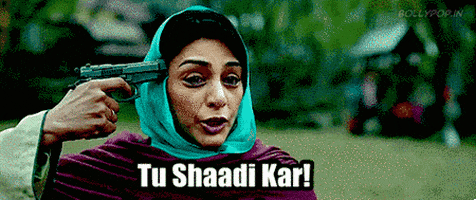 Forget about you not getting any attention during your childhood. When your parents ignore your sad face and begin to search for your kundli and talk about the rishta, that should be declared as a punishable offence under law.
Stage 3- Questioning the foundation of your friendship
While in the beginning your friends might seem to empathize with you, don't be shattered when you get to know that they have secretly started shopping and planning your bachelorette. Don't even be disappointed if they don't include hot male strippers in the party.
Stage 4- Existential Crisis of the boyfriend
Here's where you need to decide if you truly love your boyfriend or the designer lehenga that is almost ready to come your way. True love, as they say, is hard to find.
Stage 5- Meeting the maybe/maybe not
A very crucial stage where either of the two can happen- you will fall in love and come back with a family planning brochure or you will hate him and stay away from males for quite some time.
Stage 6- The Hangover
Once you have either rejected or accepted the proposal at stage 4, a lot of things fall on your head. If you have accepted, salon appointments, congratulatory messages and emotional hugs will never cease. If you have rejected it, well, alcohol is said to have mood enhancing ingredients.
Stage 6- Happily ever after
Now this could either be you enjoying on your honeymoon or sitting in your office chair and making single plans with your single (or not) friends. After all, happiness is not meant for married couples only!
So, have you reached your shaadi ki umar yet?