Love is the most complicated but best feeling in the world.  What better way to express it but by saying those three magical words to that special someone-"I LOVE YOU". There are so many ways that we want to express this love.
Why be cliché' and do the whole 'roses are red?" Why not slap in a bit of humor to make your partner feel loved while they laugh their butt off! Like Bitto in Band Baaja Baarat, "tere bina kisi cheez mein mauj nahin hai, na ladkiyan tadne mein, na chai mein, na chowmein mein". Laughter, most of the time, is just what a relationship needs to keep that spark alive. It is the most effective tool to bring that cheerful grin on your partner's face that you love to see.
It doesn't have to be a direct "I love you". You can even compare your love to crustaceans like Phoebe tells Ross, "Because she's your lobster". Or tell the other, "you're an idiot", just like Robin expresses her love for Barney. It can sound rude or weird to others but to that special someone it says "I love you".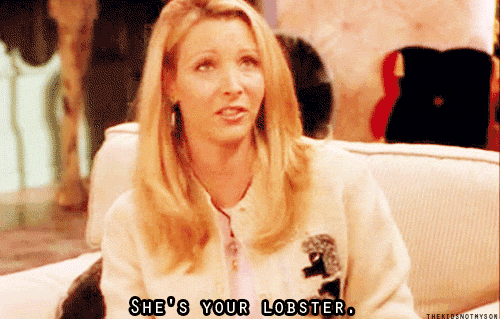 Image Source
Here are some creative and funny ways to tell that someone just how much you love them.
Slap that c****(C for cutie, what did you think?)–
Image Source
Love can be expressed non-verbally also. Cute pats on the head, playful pinches, pulling their ear, biting their arms while calling them cute nicknames. Nicknames could also be slangs like, "ch*****", but expressed with utmost love and endearment. There is something so candid about being playful together.  Sending funny faces on Snapchat, doing funny dances together or playing video games. Time spent together enjoying each other's company, what better way to share the love?
A picture is worth a thousand words–
Image Source
Pictures of your partner while they sleep are worth even more. You can't help but chuckle at the drool or their open mouth. You can start a hashtag– #sleepingbeauty. You can take pictures of your partner while they are asleep and make a collage or simply post it online. You can even try a challenge where you try to put as many objects on them while they are asleep without waking them up.
Dubsmash- what better public display of affection than a dubsmash. Find the funniest dialogues or love songs and go crazy with your partner. Share it friends and family to spread the laugh.
Play a prank– what better way to show your undying love than by playing a prank:-
Scream it from the top of your lungs– hide under the bed, blanket or behind the door ready with a camera. As your girlfriend/boyfriend approaches jump out, scare them and record their reaction. Post a picture of their scared, awkward faces online with a caption that says how you love them despite their looks. Who said looks matter!
Zombie face says love you–
Image Source
 buy one of those scary zombie masks, one that's bound to get a shriek out of your unsuspecting partner. Creep up on them as they are asleep and jump on them while screaming, "I LOVE YOU FOR YOUR BRAINS!" Nothing says love like a zombie who loves brains.
Cook up a bug fest– what better way to show love than by cooking your loved one a special meal. Buy a toy bug or insect that scares the daylights out of your other half. Hide it carefully in the food. Keep the camera ready! Watch in sheer amusement how they freak out when they find a bug in their food, curse you for food poisoning to realize it's a prank. Then watch them freak even more!
Image Source
 You can be creative even if you are cliché'.  Send cute little cards with messages like, "I love you because when I farted you didn't run away" , "even during a zombie apocalypse I'd still chews you",  "I love you more than Tyrion Lannister loves sarcasm"(Latter only applies to GOT fans).
Image Source
One can always make their expression of love a melodious one. Slyly record yourself singing, "Smelly cat", from F.R.I.E.N.D.S or "Soft kitty warm kitty", from Big Bang Theory (any other sitcom or movie will do.) you can even record yourself shouting random abuses and make it your loved one's ringtone. Remember to do so in a sing song manner, in a high pitch and obviously off key. Then give them a call when you're both out in public. Watch them cringe and turn rosy red with embarrassment with your twisted expression of love.
Fake coupons– to make things a little interesting, with a touch of humor, send your partner coupons. No not the body shop gift vouchers that'd be too nice. Inform them that you bought them a gift voucher or a coupon for some really expensive mobile or spa treatment. Actually cut out bits of paper and write things like, "fooled ya!" or "you really thought I was that nice?", and send it in a neatly wrapped box. Bit of sarcasm never hurt anybody and make sure the wrapping paper is nice!
Never settle for being ordinary, find unconventional and creative ways to show your love- "Jab pyaar kiya toh darna kya?"