"Baal hai ya zhadu?" are you tired of these sort of comments? Have lost all the shine and your hair looks too dull and brittle with split ends?  Are you too fighting with Frizzy hair with unmanageable strands?  So buckle up. This is high time, you and your scalp needs nourishment. Weather conditions, pollution, coloring and highlights, over usage of styling tools and heat make them lifeless and rough.
Involve yourself in a hot oil therapy at home. So basically one must not oil hair just to avoid mother's scolding, oil massage helps in improving blood circulation which eventually leads to healthy scalp and roots of hair. Burst the myth of oiling hair strands. This is not the correct way. Oiling your hair strands will not provide nourishment to the hair; they will be just sticky in the end. So, doing it right is important.
Wondering which hair oil to be used?
CARRIER OILS:
Coconut oil: This works for almost every one by stimulating hair follicles and it acts as a hair conditioner with its moisture retaining property. Coconut oil acts as hair tonic.
Sesame oil:  Also known as Mustard oil, little sticky in nature but nourishes the scalp effectively. If you wish to have long shiny hair, the remedy is here.
Olive oil: For chemically treated hair, olive oil works the best. It conditions the hair and provides excellent nourishment required for hair growth. This oil also has anti-fungal and anti-bacterial property, thus adding a step towards healthy strong scalp. A remedy for split ends.
Castor Seed Oil:  Best oil for dry, brittle and damaged hair. Castor oil works by coating the hair shaft. Seals moisture in the hair strands. Sticky oil, so washing takes time. But it is worth for soft and silky hair.
Apart from this, essential oils can be added to these oils for better results.
ESSENTIAL OILS TO BE USED:
Sweet Almond Oil: Helps to make hair strong as it is rich supply of Vitamin E. So, with ample supply of Vitamin E, there is reduction in hair fall, providing nourishment to hair.  For shiny and strong hair add a few drops of almond oil to the carrier oil.
Rosemary Oil: effective oil which improves hair growth and texture. If you are facing dandruff problem, then add it and massage.
Tea tree Oil: A best treatment for dry scalp and dandruff.
Lavender Oil: Oil suitable for every hair type. A part from promoting hair growth, this oil helps to relieve itchy scalp and dandruff problems and thus, helps in soothing the scalp.
Lemon grass Oil: If you have too oily scalp, then this is a must try oil. This oil slows down excessive oil production from scalp.
Geranium Oil: For hair growth and strengthening.
Thyme Oil: If you have thin hair and too much of hair fall problem, then thyme oil will give you a relief.
Moroccan Argan Oil: Provides anti-oxidants to the roots. Nourishes and makes the hair strands soft, thick and lustrous.
It is recommended that Allergies to any of the essential oil should always be checked prior to use.
STEPS:
Detangle Your Hair:
Firstly, detangling your hair is important. Tangled hair makes it difficult to manage hair. Use a wide comb for detangling the strands.
Warm The Oil:
Do not put the oil and eventually your house on fire. Use a double boiler for warming the oil. The oil should be warm, not too hot to handle. Warm the oil up to a temperature which you feel to be tolerated by your scalp or you will end up by burning your scalp.
Partition Your Hair:
Small partitioning of hair is important in the whole process. This makes the application of oil towards the roots on the scalp easy.
Dab and Apply:
Dab of cotton ball can be used to apply the warm oil on the scalp evenly or use your finger tips to apply the oil. The warm oil makes it easy to penetrate inside the scalp and reach your hair roots. This in turn nourishes the hair strands.
Massage:
Gently massage the oiled scalp in small circular motions. Do not massage with extra force or do over massage, this will otherwise tend to hair breakage.
Steam:
You can cover the hair with a towel and take steam from the steamer for 10-15 minutes. If you don't have a steamer, then hot towel method can be used. Just dip the towel in hot water and cover your head with the hot thing.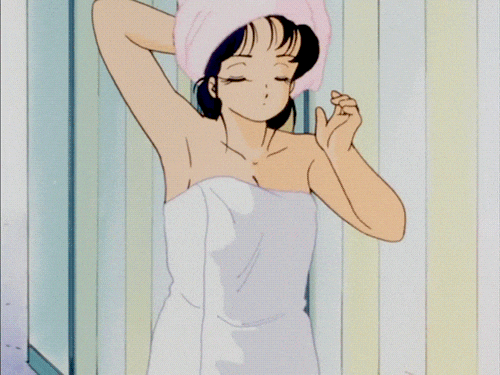 [bl href="http://media.giphy.com/media/OYgHBpEfKG4UM/giphy.gif"][/bl]
Wash Off:
Wash your hair after keeping it overnight or within 1-2 hours, as per convenience. Always use mild shampoo for cleansing the scalp. Air dry your hair strands and then brush your hair. Do not comb your hair when they are wet, they are prone to breakage.
[bl href="https://33.media.tumblr.com/66f668677620efd0784a1b1d5c44db7f/tumblr_n25aigSR2Y1tqs1heo1_500.gif"][/bl]
Style up with healthy hair strands and pamper your hair roots twice a week.
Featured Image:
[bl href="http://cdn.playbuzz.com/cdn/441caeb1-c741-413d-874e-be8f9b694ca0/61b3ad89-c8d8-4d40-92b3-8972b1cf3c65.jpg"][/bl]