The F.R.I.E.N.D.S. series will always remain a wholesome entertainment package for teenagers and youngsters in any era. The characters seemed so real and believable that F.R.I.E.N.D.S. made us feel at home.
Here are 6 lessons we learnt from the various characters of F.R.I.E.N.D.S. –
Phoebe taught us to be Free Spirited
Remember the episode when Phoebe runs like crazy in the park? How free spirited is she? Here is an important lesson to learn from her – do what pleases you and do not care a damn about the society. The world anyways will talk, you just do what you feel is right. Phoebe did everything as a free spirit – had her brother's triplets, sang unusual songs at the Café (remember smelly cat?) and held her head high always.
So how about that crazy run in the park today? Run as if no one is watching!
Joe taught us to Hug It Out
Whatever maybe the circumstances, Joe taught us to hug it out. He also taught us that it is OK to say 'No'! Remember, Joe does not share food? In many of the episodes, Joe just came up close and gave a BIG hug with such ease that it made hugging look natural and wanted. He must have hugged Chandler the most, adding deep meaning to their long friendship.
If you are close to someone, just go and hug the person. It feels good!
Rachel taught us to create our Own Self
Rachel who belongs to one of the rich families and has been living off her dad's credit cards, decides to create her own identity without the help of her parents' money. Now isn't that a great life lesson for each one of us? She does not make it big in one night, but starts as a waitress at the Café and gradually goes her way up in her career. From a waitress in season one to finding a job in France in the finale is a long and arduous way to create your own identity, no shortcuts there.
Even if you get everything on your plate, try and create your own self without the help of your parents.
Ross taught us that shit happens in relationships, what matters is how we Rise From Each Situation
No one can be as unlucky as Ross when it comes to relationships. Wife turning out to be a Lesbian, getting married thrice and divorced thrice, taking your ex's name during marriage – Oh My God, the list goes on. But Ross rose up from each relationship hurdle and finally got what he always wanted – Rachel. It is worth waiting for the true love in your life.
If you have gone through ups and downs in your relationship graph, don't worry your Rachel might be just around the corner!
Monica taught us to take up a Job We Love
Perfectionist Monica taught us to take up a job that we love instead of doing something which we detest. A job is a place where we spend most of our life and if we don't like it, nothing can be as bad as a hateful job. Monica did the right thing by being a Chef as she loved cooking and feeding people. She struggled too but at the end got her dream job.
If you are in a job which you detest, you should rethink about making the job interesting or switching.
Chandler taught us that Laughter is the Best Medicine
Chandler's typical one liners will crack anyone up in a jiffy and you will not be able to control your laughter. Chandler taught us that laughter is the best medicine, humor it all up whatever maybe your situation. Or else how do you suppose Chandler Bing could survive the dysfunctional family he grew up with during childhood?
Tell a joke, laugh it up. You get just one life, don't waste it cribbing and sobbing!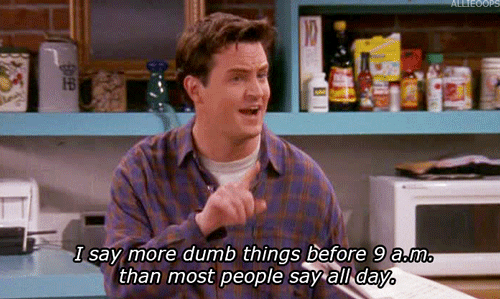 Some life lessons worth following, right?